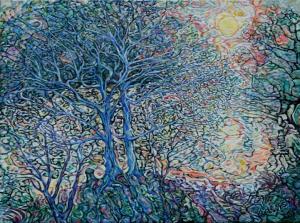 Anna Yurasovsky is one of the Award Winning Artists at LANDSCAPES 2016 online exhibition at Light Space & Time Art Gallery. Her 2013 painting SUN REFLECTIONS was chosen from 738 entries which were submitted from around the world.

The art competition and the submission process for the artists began in February 2016 and concluded on March 27, 2016. The gallery received entries from 28 different countries from around the world, including Australia, Austria, Bulgaria, Canada, Croatia, Czech Republic, France, Georgia, Germany, Hong Kong, India, Ireland, Italy, Kuala Lumpur, Lithuania, Malaysia, New Zealand, Norway, Poland, Russia, Scotland, Slovakia, South Africa, Sweden, Switzerland, United Arab Emirates, Ukraine, United Kingdom and Viet Nam. In addition, the gallery received entries from 37 different US states.

The exhibition is opened and winners announced on 1 April 2016.